Jak aranżacja biura wpływa na wydajność Twoich pracowników?
Wnętrze biura to miejsce, w którym każdy z Twoich pracowników spędza minimum 40 godzin tygodniowo. Dlatego nie tylko ich stanowisko pracy, ale również cała dostępna przestrzeń powinna być dla nich komfortowa i wygodna. Na co więc zwrócić szczególną uwagę projektując jego wygląd? Odpowiedź znajdziesz poniżej.
Nadmierny hałas w biurze – czynnik stresujący
Poziom hałasu to jeden z najważniejszych czynników, który decyduje o wydajności Twoich pracowników. Narażenie ich na ciągłe bodźce dźwiękowe, np. dźwięk telefonów, głośne rozmowy czy ruch uliczny może znacząco wpłynąć na efekt ich pracy. Hałas zwiększa w nich poziom stresu, wpływa na koncentrację oraz często wytrąca ich z rytmu. Jak temu zapobiec?
Skutecznym sposobem na zapewnienie pracownikom ciszy w biurze jest montaż paneli akustycznych. Mobilne lub stałe ściany dźwiękoszczelne stanowią skuteczne wygłuszenie pomieszczenia. Jednocześnie pozwalają wydzielić mniejszą przestrzeń, która zwiększy komfort ich pracy oraz wzmocni poczucie bezpieczeństwa.
Zobacz: 3 sposoby na wyciszenie pomieszczeń biurowych
Naturalne oświetlenie biura - czynnik motywujący
Wymogi dotyczące oświetlenia stanowiska pracy biurowej światłem dziennym i elektrycznym są określone w odpowiednich przepisach BHP. Warto jednak pamiętać o tym, że im więcej światła naturalnego w biurze, tym lepiej. Dlaczego?
Okazuje się, że światło ma bardzo duży wpływ na to, jak pracują i czują się Twoi pracownicy. Słońce sprzyja ich efektywności oraz zwiększa motywację do wykonywania zadań. Pozytywny wpływ światła dziennego na samopoczucie pracownika bezpośrednio przyczyni się do poprawy ich wyników.
Nowoczesne wnętrze biura ma znaczenie
Estetyka i funkcjonalność wnętrz biurowych mają znaczący wpływ na to, jak pracownicy czują się w Twojej firmie. Odpowiedni kolor ścian, przestronność pomieszczeń oraz wydzielenie miejsc do spożywania posiłków wzmacnia ich pozytywne odczucia i pozwala na odpoczynek w ciągu całego dnia pracy.
Jednak jak podzielić dużą, otwartą przestrzeń i jednocześnie zapewnić pracownikom jej przestronność? Wspomnieliśmy wcześniej o tym, jak ważny jest dostęp do naturalnego światła w biurze. Najlepszym rozwiązaniem będą więc szklane ścianki działowe mobilne lub szklane ściany stałe. Dzięki przeszkleniom biuro zyska na lekkości, zagwarantuje dostęp do światła słonecznego i jednocześnie optycznie powiększy pomieszczenia.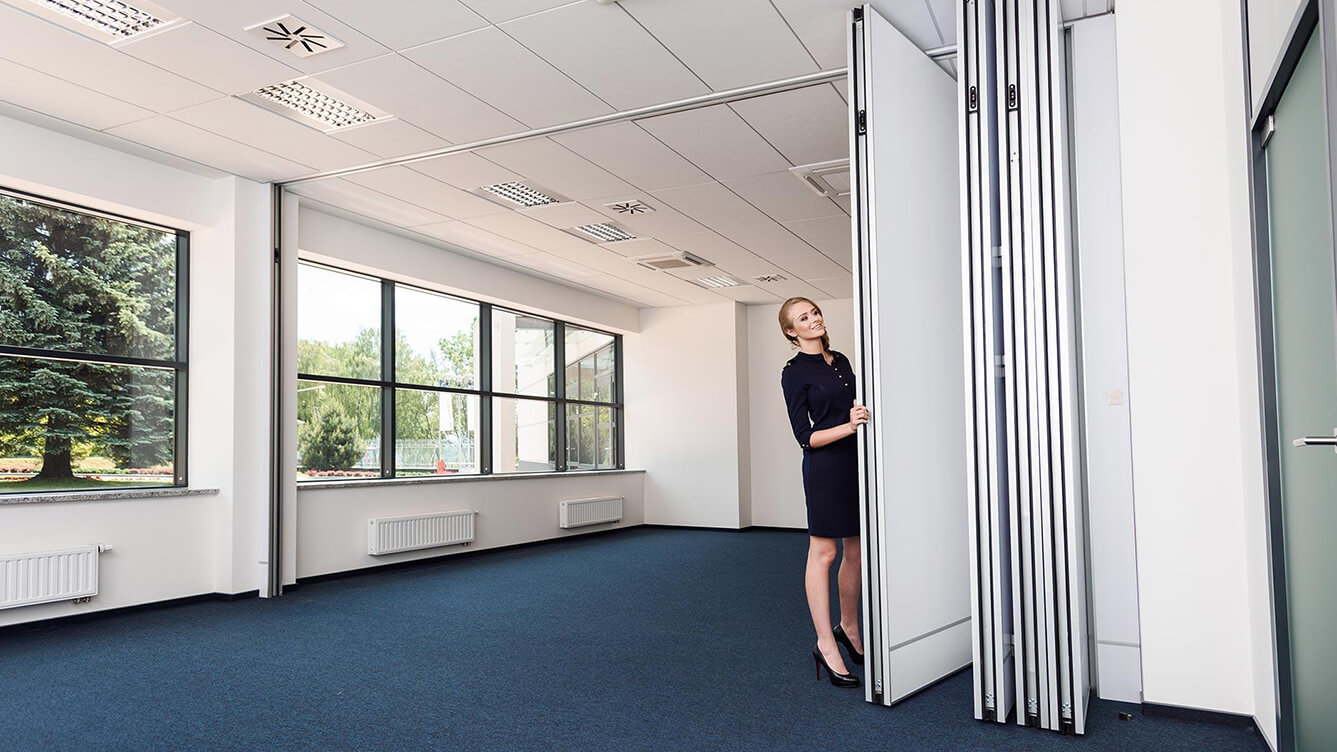 Pracownicy docenią dobrze zorganizowaną przestrzeń
Zwracanie uwagi na potrzeby pracowników oraz zapewnienie im maksymalnie przyjaznego miejsca pracy może przynieść Twojej firmie nieoczekiwane korzyści. Zarówno obecni, jak i przyszli pracownicy docenią dbałość o warunki pracy, które oferujesz. Szczególnie jeśli będą one podyktowane nie tylko przepisami BHP, ale troską pracodawcy o ich wygodę i komfort.