Unipanels
Acoustic panels system
System description
Komandor Unipanels System is made up of veneered, decorative and acoustic panels, as well as acoustic systems. It is a unique product which includes acoustic and aesthetic qualities, and thanks to the application of innovative technologies which use the highest quality materials, it meets the required fire resistance standards. In our offer, we have solutions dedicated to public and institutional facilities, and to private apartments.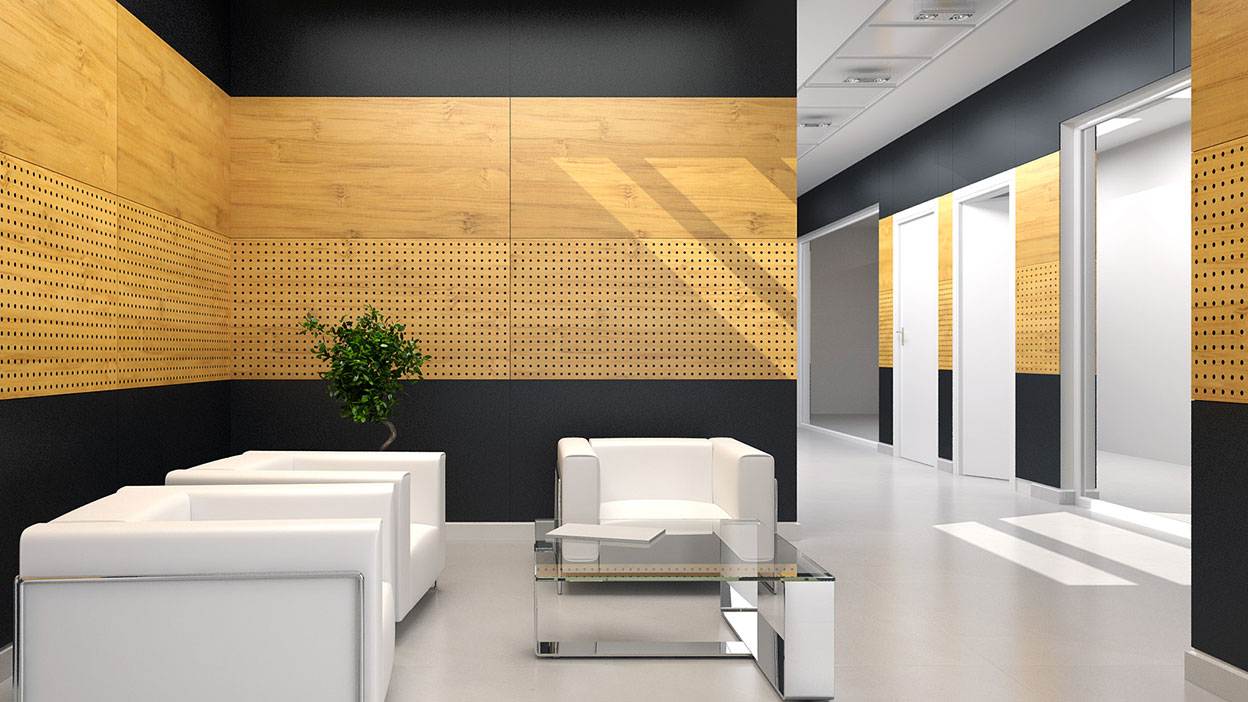 Technical specifications
| | |
| --- | --- |
| Panel thickness | 8 - 22 mm |
| Classification report in the scope of reaction to fire according to PN-EN 13501-1+A1:2010 | A2:s1:d0, B:s1:d0, B:s2:d0, C:s2:d0 (depending on the type of panels) |
| Secondary material | Wood-like or aluminum substructure - 600x600mm framework |
| Sound absorption coefficient | class A to E |
| Panel height | standard 600mm (AT maximum dimensions 3000x1200 mm) |
| Panel width | Standard 600, 1200mm (AT maximum dimensions 3000x1200 mm) |
| Filler | gypsum, MDF, CDF, HPL, veneer, rattan, bamboo, loom, varnishes, plywood |
| Doors | single or double door panel |
| Panel weight decorative layer | on average 15 kg/m2 (range 10 - 20 kg/m2) |
| Panel weight with substructure | 22 kg/m2 |
Wall panels
Thanks to the application of acoustic wall panels sounds in the room are perfectly dampened or deflected. In case of offices, flats and apartments, their use allows to separate the interior of the property from bothersome street and city noise, which decidedly affects the level of acoustic comfort of its users. Quiet interiors, allows one to concentrate during work, but also eliminates tiredness and helps facilitate rest.

Acoustic wall linings look incredibly effective in interiors. Depending on the Client's expectations, they may take ultramodern, even futuristic forms, or become part of a classical decor of offices and flats. With Komandor UniPanels System it is possible to carry our projects of both a minimalistic loft, as well as a cozy interior of a classic apartment.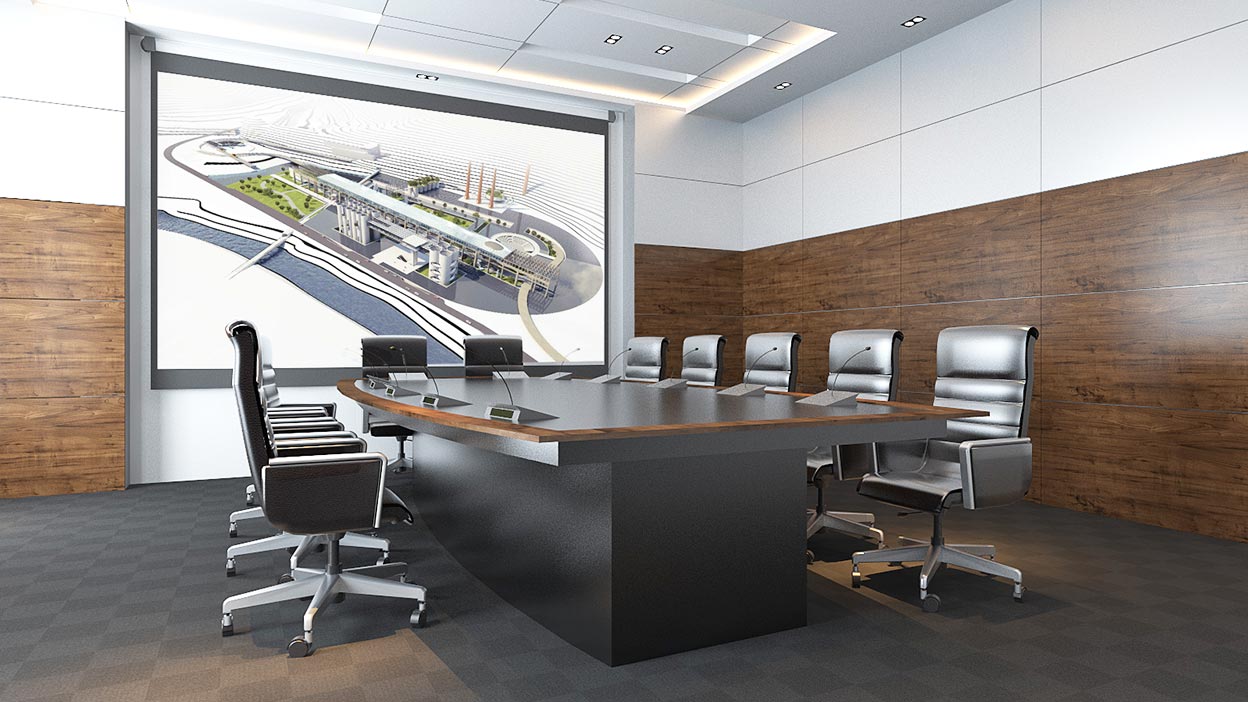 On the wall panels we make the following types of perforation:
Ceiling panels
Ceiling linings are preferred, especially by the music and media industry. Not only do they ensure perfect dampening of sounds, that travel from the higher floors (or the roof) of buildings, but also appropriate propagation of an acoustic wave inside the room.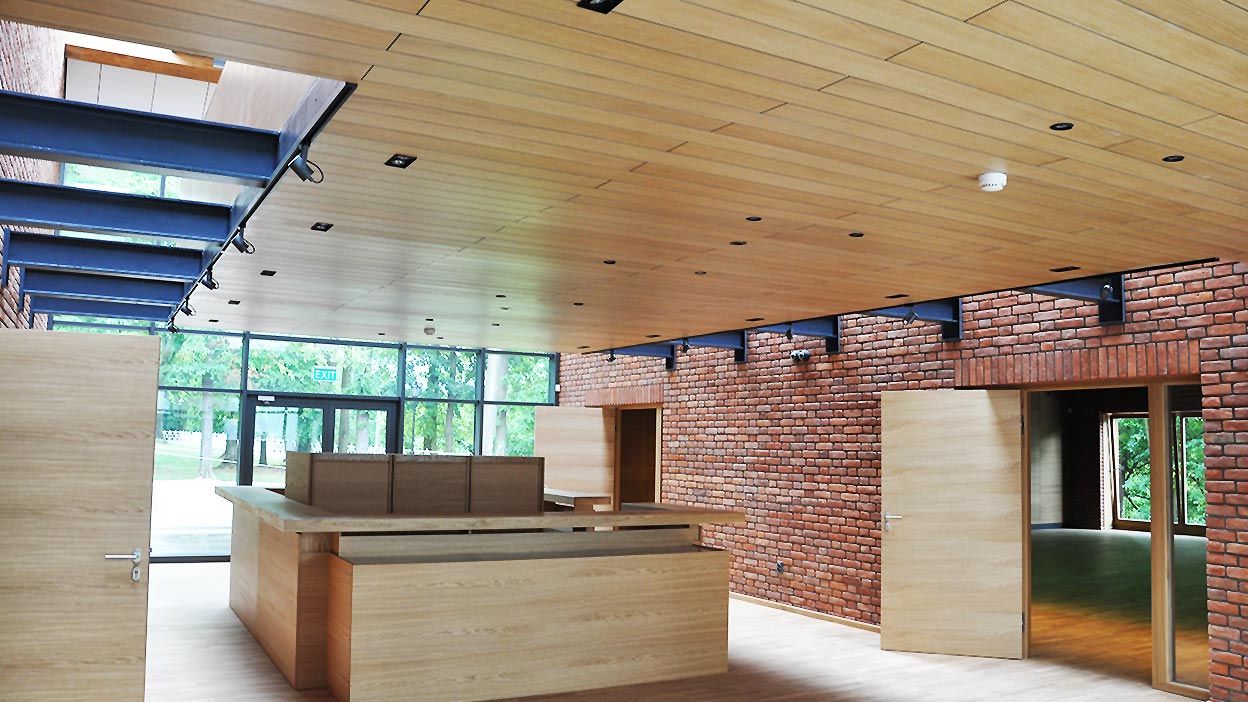 Acoustic systems
Acoustic systems are complicated, spatial elements usually made of plywood or wood-like boards with absorbing, dispersing or absorbing-dispersing properties. They are used to improve acoustics in "difficult" rooms or in those where perfect acoustics is very important.
One-dimensional diffuser – it is an acoustic system with one range of sound dispersion. Sound waves which collide with its surface are diffused and deflected in different directions, but in one plane.
Two-dimensional diffuser – it is an acoustic system for dispersing sounds in two directions. Sound waves which collide with its surface are diffused and deflected in different directions in two planes – vertically and horizontally.

Diffusers and panels are produced according to individual needs.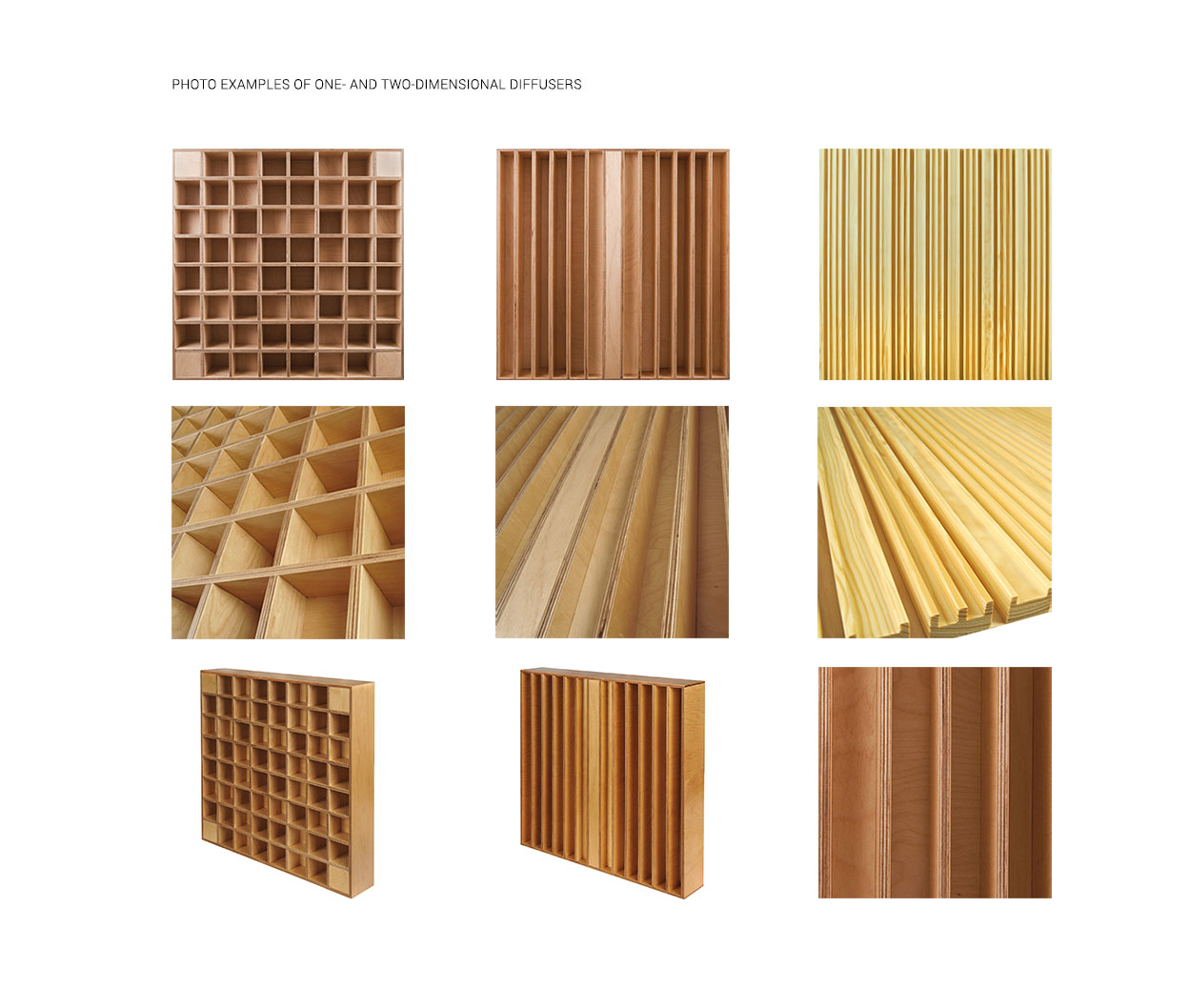 Raw materials
Gypsum Fiberboard

The core of this raw material has good acoustic properties, and its fire protection properties are immensely important. Those panels are made of gypsum and cellulose fibers which are obtained during the production or recycling process. Thanks to the application of a hem bar made of solid wood, the panels appear to be wholly made of this wood material.



MDF board

The core of the non-flammable MDF board means that the panels may be used in the interiors which need smooth surface and little weight. MDF boards are made of wooden fibers and joining compounds. A tough, uniform surface is made during the process of pressing. MDF boards are a perfect material for further veneering processing, or facing with HPL laminate or for other laminating.



Plywood

In interiors which require the highest level of attention to acoustics, diffusers or panels made of plywood are used. Only the highest quality plywood made of a proper balance of deciduous or coniferous trees, is used in the production of the above-mentioned elements. Plywood is made by gluing together a few layers of wood, while the fibers of the neighboring layers cross in a complimentary strengthening fashion.



CDF

(Compact Density Fiber) board with high density and increased resistance to wetness, is a black dye coloured mass. Apart from using it as the core of our panels, it can be used as a partition wall e.g. in a locker room or toilet. CDF board has high resistance to abrasion, deformation, acids, bases, oils, and oil compounds. It is produced from wood obtained from areas with sustainable forest management.



Veneers

For production of panels we use both natural veneers and the highest quality modified veneers.

Modified veneer – it is a perfect choice for interiors where recurrence of grain of wood and color has to be preserved, as well as the refinement of the natural material. Thanks to the application of technological processing the structure of natural wood is optimized, which prevents distortions and imperfections. Deeper spatial structure and dyes are conducive to intensifying the color, making the veneer more lively and eye-catching. Modified veneer is an ecological product.

Natural veneer – these are thin pieces of wood, produced by slicing or peeling the trunk of the tree, after the process of drying and is sliced into sheets. It is a natural raw material, that is why when using it one must be prepared for differences in grain of wood and color.



HPL

High-pressure decorative laminate is a material which is produced as a result of pressing many layers of resin impregnated paper, under high pressure and temperature. The out layer is made of decorative paper impregnated with melamine resin. Thanks to using special punching and pressing techniques it is possible to create tough and resistant surfaces whose unique and especially resistant surface is perfect for interior design.

The main characteristics of HPL are:
High resistance to impact and abrasion
High resistance to temperature
Resistance to bending and tearing
Chemical resistance
Resistance to UV-radiation
Color-fastness

Varnishes

The layer on the panels is uniform and the suggested colors are in accordance with the RAL and NCS pallet.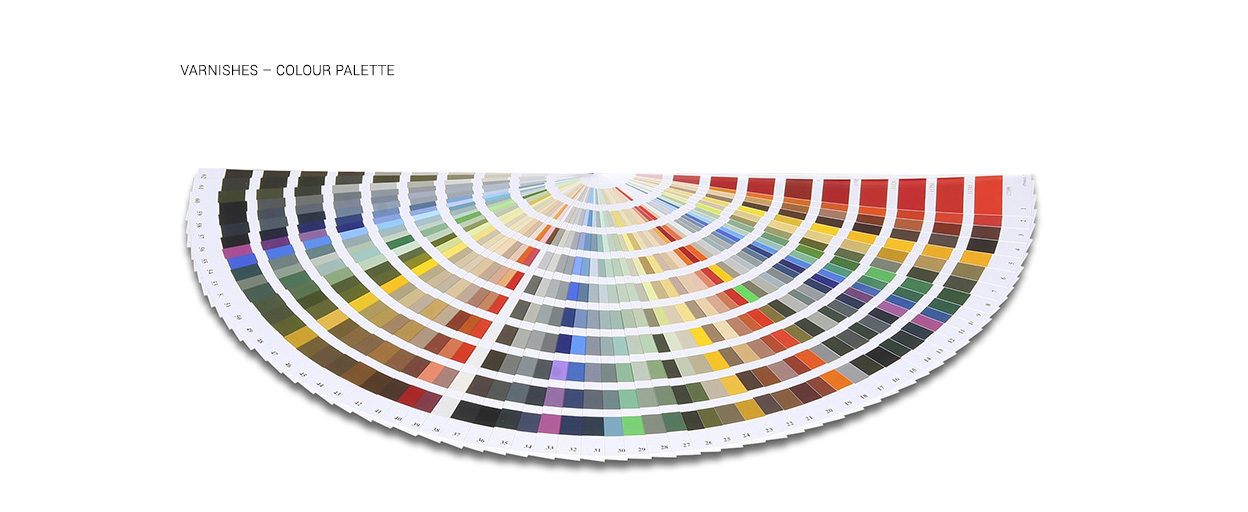 Rattan panels

Panels covered with a natural rattan by method of liana plaiting, an exotic CALAMUS ROTANG palm from the forests of tropical Asia.

Bamboo panels

Covered on the outside with bamboo slats or bamboo veneer. Bamboo is a type of grass with hardening stems, cultivated mainly in the monsoon climate.

Loom panels

Their outer layer is made of loom mat which is woven on special looms from an extraordinarily resistant cellulose string.

Certificates and testing
Technical parameters of our products were certified with appropriate fire and acoustic tests, and they have been technically certified.
One of the most important tests is in the testing the reacton to fire. The test is according to the PN-EN 13823 norm , "Test of reaction to fire of building products. Building products, with exception of floorings, exposed to thermal effects of a single burning item." In short, the research is called the SBI Test, which is the acronym in English for "single burning item".

Komandor Unipanels System Panels were tested in the laboratory of the Fire Testing Department of the Building Research Institute and received the following classification according to the PN-EN 13501-1 + A1:2010 norm:
| | | |
| --- | --- | --- |
| Panel type | Panel thickness | Classification received |
| Gypsum fiberboard with veneer | approx. 13,5 mm | B - s1 - d0 |
| Varnished gypsum fiberboard | approx. 13,5 mm | B - s1 - d0 |
| Gypsum fiberboard with HPL | approx. 13,5 mm | B - s1 - d0 |
| MDF with veneer | 10 mm - 25 mm | C - s2 - d0 |
| Varnished MDF | 10 mm - 24 mm | C - s2 - d0 |
| MDF with HPL | 10 mm | B - s2 - d0 |
| MDF with HPL | 11 mm - 25 mm | C - s2 - d0 |
| Black HDF with veneer | 9 mm - 21 mm | B - s2 - d0 |